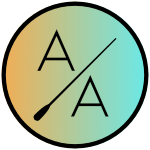 Ahmad Aliff
Bringing
music
to
life
About
Versatile. Multi-talented. One of a kind. The Ace. Words alone cannot describe the true extents of Ahmad Aliff's creative mana. He brings the best out of music, taking it to a different level. Many have been amused and awestruck by the experience. He is a violinist, conductor, composer, orchestrator, record producer, lyricist, teacher, and more. There are many specialists out there who can come up with amazing stuff in their respective fields. This Malaysian lad however, is the Special One. From conducting symphony orchestras, rendering violin solos, directing A-listers' performances, writing smashing tunes, to nurturing young musicians, he's nailed them all.
If you wish for music to be realised with poise, elegance, and passion, summon The Legend.
If you want cheap entertainment or free music lessons, press the 'X' button on your browser tab.